One morning during the tunes-n-coffee ritual, I was reflecting on how much Gratitude I have for being a musician.  There truly is no greater Gift.  I felt my heart open as I thought of all of my noise-making brothers and sisters, from right here in Madison to the other side of the planet.  I drifted into fun little daydreams of some massive world-wide event happening that would require all of us to play at once to thwart a major planetary threat.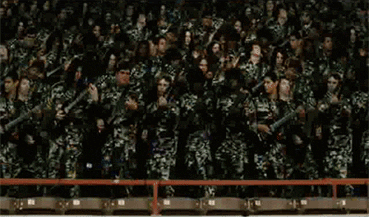 As I thought about the Truth of what music really is, and the sheer impact it has on us, and what it could be like if we came together as Artists, this piece of writing came out (a song is brewing as result of it, I'm kickin' some chords and lyrics around the office):
Calling all Musicians:
This is not a drill. Your time has come. The world needs you. Humanity needs you. It's time to stand up and ROCK THE FUCK OUT!
The type of music you make does not matter, nor does it matter how "good" or "bad" you think you are. Stop comparing yourself to other musicians anyway. Stop wondering if you're better or worse than, more or less deserving of this or that. It doesn't matter if you're "professional", or if your biggest show was at home in your underwear for an audience of posters on your wall – we are all on the same team, with the same mission: to ROCK. THE FUCK. OUT.
Because know this: you are not the "likes" on your fucking facebook page. You are not your album cover. You are not a number of downloads, or the amount of merch you sell at your shows. You're not what time you play in the lineup, how many people you can "draw", how much money you have, and you sure as hell are not your fucking "image". In fact, you aren't even your music…you are merely a vessel for Music to pass through. You are a POWERFUL FUCKING FORCE.
Music is a language of the Universe – the ONE SONG. Open yourself up and let the music radiate from your very cells, throw yourself into another dimension of colorful Expression – lose yourself. That's your job: to just ROCK. THE FUCK. OUT.
Play your songs. Make your music. Do it with PURPOSE, with INTENTION, with a FORCE. Don't stop, no matter what happens around you. FOLLOW your music, listen to what it tells you and obey. Play as often as you can, everywhere you can.
Be open and vulnerable in your emotions while you are playing; in fact, you must strive for this every time. Don't be afraid, the Listeners around you want this. We need our music to move us through our core, we want it to DO things to us, to help us throughput and express our emotions. All of the best music does this, no matter what "genre" it is, no matter what the Story is. That's why it doesn't matter what you play or how "good" you are – let your music MOVE, and it will MOVE. Just ROCK. THE FUCK. OUT.
When we express ourselves – our thoughts, our emotions, our minds, our feelings- we're helping ourselves to process the story of our lives, and the story of the world around us. If you are a musician (or an Artist of any kind), you have the ability and nurtured skills to EXPRESS, which is necessary to process shit. We ALL have the power to express ourselves in artistic ways, but it is the Artist that has nurtured Divine tools of Expression like music. It is the Artist that can really say it better; sometimes SO much so, that it feels like they've captured how YOU feel, as if they were in deep in your soul somehow, ripping out your insides and showing them to you.
Our insides are being shown to us more and more these days.  We're ever discovering what we are, and what we most certainly are not. There is so much happening right now, we have SO MUCH to process, and too many of us don't know how.  Sometimes shit just happens that is way too fucking overwhelming and we don't know what to do with all of the feelings it causes, we don't know where to direct any of our anger/fear/sadness/etc.  We need to get it out, to allow it to pass through somehow, to channel it.  Some people turn to such shocking means of channeling their emotions – sometimes quite harmful and damaging to themselves and those around them. I truly feel music is the best, most powerful tool we have to channel and process our bullshit – it has REAL power, to bring us into the Here and Now, to face ourselves and give whatever is needed within that Holy Moment.  Music has TRUE potential to save us and unite us all, because it is a gateway to inner Contentment.  And to me, real world peace means a world of Individuals with inner peace…
We need to scream and yell and have a good long cry, and then laugh through all of our tears and snot, and not be afraid to wipe it on the shirt of a stranger, and to offer your shirt for their snot in return. We need this to ACTUALLY happen – in real life, not just on facebook. If you're angry, you can go ahead and use all the capital letters and angry-face emojis you want, or even little hugs-n-kisses emojis when you're happy; but NOTHING feels as good as actual yelling, and real hugs-n-kisses. We need to make real life happen again, take control and open ourselves up to one another, be exactly what you are and let others be what they are. We need to love HARD, and maybe if we could process our own individual bullshit a little bit better, we can make it easier to let go and love a little harder.
Let's DO this, my fellow music makers and Listeners. Let's flood the whole fucking place with music, let it completely take over, use this Weapon of Mass Expression to de-clog some of our shit-caked pipes. Let's play hard out there! Sing loud and fierce, all primal and shit – like our very existence depends on it, because it fucking does.  Do it all at once, until it rattles the Earth to her core and shakes off her old dead skin to make way for something more alive.  It's our time now, we are being Called. It's time to come together and ROCK. THE FUCK. OUT.